Last fall I was looking for a place to go to get out of the New England winter for a month to play Pickleball. While considering many locations in Florida, I found it difficult to get reasonably priced lodging since the snow birds had long ago made their reservations. Instead I opted for Hilton Head Island South Carolina. It had a great mix of world-class resorts along with weather that was more temperate than New England. Plus it still had a change of seasons which I enjoy.
Before making a reservation, I verified that they play Pickleball year-around even though it can get into the 30's on Hilton Head Island. Once I arrived, I found the courts just as busy with the wind chill in the 30s as it was on sunny 60 degree days.
Pickleball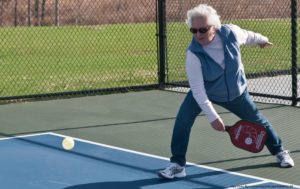 Palmetto Dunes is the primary place to play Pickleball on Hilton Head Island. They have 16 Pickleball courts and a program offering round robins and clinics. The long-time Pickleball pro is Mark Anders and professional Pickleball player Sarah Ansboury also teaches at Palmetto Dunes now.
Round robins are scheduled every morning from 10 a.m. To Noon and some afternoons starting at 3 p.m. My first round robin was on a Saturday morning and every court was filled. Mark does a nice job of moving players around so you can play with people of the same skill level. He tries to make it fun for everyone so don't be surprised if you find the atmosphere pretty laid back. If you are ultra-competitive, the rounds robins will not be a good fit for you.
Surprisingly, the overall skill level of the participants is not that high. While about 50% of the people playing live on Hilton Head Island full-time, there were virtually no tournament players. Some of the players visiting the island were more skilled but this was very hit or miss. For example, one day I played with a 4.5 male player but only saw him at one round robin.
Round robins are $15 per session but you can get a Pickleball membership to lower the cost. The memberships range from monthly to yearly and Mark will help determine the best one for you as to maximize savings.
Clinics were offered almost every morning and a few afternoons. Both beginning and intermediate clinics were available. Mark is a patient teacher and runs his clinics as well as the round robins, so I wouldn't hesitate to sign up. Clinics are $25 per person.
Palmetto Dunes has 16 dedicated Pickleball courts so it's great you don't have to put down lines each time you play. The Pickleball courts are at the front of the tennis facility so Pickleball is definitely featured there. If you stay at one of the villas in Palmetto Dunes, you also receive two hours of free court time so you will have lots of opportunity to play outside of round robins and clinics.
If you don't have your own paddle or want to demo a few paddles, check out the pro shop. This is also where you sign up for clinics and round robins. I would be sure to sign up ahead of time especially for the weekend round robins as it is very busy. Another option for Pickleball is the Hilton Head Recreation center. While I did not play at that facility, many of the locals mentioned it as another option for Pickleball.
With the addition of Sarah Ansboury to the staff of Palmetto Dunes, she is bringing together destination clinics and other events for guests. April 18-21 is one such destination clinic for 4.0 players and above. The cost is $595 which includes 15 hours of Pickleball instruction by Sarah and Linh Ansboury. Keep checking the schedule as Sarah also has clinics for 3.5 players but the March event is already sold out.
Resort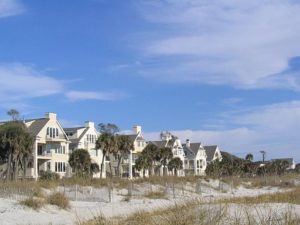 The Palmetto Dunes Resort has everything you need. You can enjoy the beach or a round of golf if you like. The resort has multiple restaurants ranging from a quick snack at the general store to a sports bar and better restaurant. All three are near the Pickleball courts. You can even eat outside at the General Store and watch the action as the Pickleball courts are right across the street.
I stayed at a villa in St. Andrews Commons. It was a one bedroom that sleeps 4 people as there is a sofa bed in the living room. The unit was 880 square feet so it felt like plenty of room for two people. The villa was fully updated and nicely decorated. It even had a patio with barbecue in the back. Guests are allowed to have dogs in the villas at certain times of the year. This must include the winter as most people I saw walking in the complex has a dog on a leash. If you need a larger villa, Palmetto Dunes has a variety of neighborhoods so you can even rent a house near the beach.
I put a deposit down of half the monthly cost. Then my credit card was charged 30 days before my stay and was non-refundable. If you need to make a change 30 days before your stay, you can with no penalty.
One of my favorite things about the resort is you can easily rent a bike. I rented one for a month and then dropped it off at the bike racks near my villa. They also picked it up on the day I left.
Hilton Head Island is well known for its bike path system. You can get almost anywhere on the island via bike which is what I did since I did not rent a car. From my villa, I was about a 5 minute bike ride from both the beach and the grocery store.
Nearby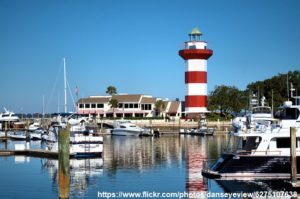 Almost everyday I would ride from my villa to one of the nearby shopping centers. You could choose whether you want to shop at Kroger or Whole Foods. If you need something from a department store, Belk is also nearby plus there are lots of local shops to explore.
Behind Belk is a local park which backs up to a marshy area. A couple of restaurants including some really good seafood restaurants are right across the street from the park. They have bars with covered patios so you can enjoy the nice days.
Another shopping center right across the road from the entrance of Palmetto Dunes has shops plus the marina. You can enjoy the million dollar yachts parked at the marina. In warmer weather, you can also enjoy dinner cruises and dolphin watching.
I didn't eat out much while I was in Hilton Head, but I did enjoy the Mexican restaurant, San Miguels, right outside the front entrance of Palmetto Dunes. They have great specials for happy hour including $5 well drinks and appetizers. You can get a chicken quesadilla or huge pate of nachos for $5.
I also visited a couple of beach parks on some of my longer bike rides. Folly Field Beach Park had some nice bike paths and went right out to the beach. Coligny Beach park had shopping and restaurants but they prohibited bikes from riding in the beach park area. One of the things I really liked about this location,however, is they had a beachside hotel with an outdoor patio right next to the beach. It's a three-star hotel called Beach House Resort and is a place I would consider staying in the future. Of course, they don't have Pickelball courts butp patrons can play sand volleyball and enjoy a drink. It reminded me a lot of places in Southern California.
Getting there
Hilton Head Island is easy to get to as there is an airport on the island. There are just a couple of flights a day but the convenience of the airport makes it worthwhile to work with the flight schedules. The other choice is to fly into Savannah, GA. This was part of my original plan because I didn't realize they flew jets into Hilton Head. I found the cost of the flight the same whether it was to Savannah or Hilton Head Island. I had to connect through Charlotte, NC anyway so it was nice to land on Hilton Head Island and then have a 10 minute uber ride to the resort.
On your way back home, don't get to the Hilton Head Island airport too early. There are no restaurants or stores, just a couple of vending machines. Getting through security is a breeze as it just takes a couple of minutes for all passengers on a plane to be screened. Plus they don't let you go through security until right before your plane boards. Be sure to use the bathrooms outside of security as there are no bathrooms once you go through security.
Summary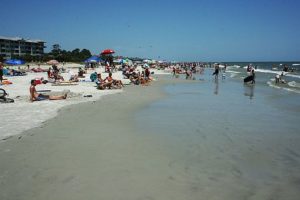 I highly recommend Hilton Head Island for Pickleball when you want to get out of a cold New England winter. The next time I go, I would plan to visit during a time when Sarah Ansboury is having one of her destination clinics. The level of competition in the round robins is great for beginning and intermediate players. However, those looking to play a more strategic game with dinks and third shot drops will be happier down in Florida. With that being said, the resort was everything I hoped for and more. I would definitely visit again.
I really enjoyed the pace of the island as most people I saw look to be retirees. In fact, I met two different couples who had just retired and were building a house on Hilton Head Island. One was from Ohio and the other was from Georgia so Hilton Head Island is a place which attracts people from even warm climates.
I did take a look at buying a condo on Hilton Head Island to use a few months of the year and rent out the rest of the time. You could get a 1000 square foot older condo for about $150,000. This isn't a bad price but the association fees were generally $500 per month or more although this did cover you insurance. I figured between the home owners dues and taxes, it would cost about $12,000 per year even if I didn't have a mortgage on the property. I decided not to buy since I could rent a villa for 3 months for just over half that amount. Then I wouldn't have the headaches associated with renters and keeping the unit up-to-date.
While a permanent residence on Hilton Head Island isn't for me, I still love the island. The only thing I wish is that the beach had bigger waves. I know this is an odd things to say but I grew up in California where the waves are much larger. Hilton Head Island has beautiful white sandy beaches but the waves on quiet days look like what you see on a lake. A couple of windy days had the waves crashing on the beach but they were still only a foot or two high.
Still, there was always plenty of people on the beach. Most people walked and dogs were seen on and off leash. You can even ride your bike on the beach as many people had beach cruisers. Even the geared bike I had was ridable along the beach where the sand was hard packed. The rental company just asked not to ride the bike in the water as it will rust.