I remember the first time I went to watch Pickleball.  I wanted to check out the game but did not have a paddle.  The group was friendly so they invited me to play and Cindy loaned me her paddle.  It was a Onix Z5.  I felt comfortable right away with it as it had a similar shape to my racquetball racket.  I immediately went out and bought my own.  While I chose this paddle just based on how it felt, I've learned a lot about paddles over the last few years.  If you want a quick guide to choosing a Pickleball paddle, you can use the Paddle Selector below.
Here is a 7 minute video on how to select a pickleball paddle.
Otherwise, read on for how to choose a pickleball paddle whether you are buying your first paddle or getting a new one.
Choosing a Pickleball Paddle
When selecting a pickleball paddle, it's important to keep five main points in mind.
Weight
Material
Price

USAPA Approval
Weight

The weight of the paddle happens to be the most important factor that comes into play when choosing a pickleball paddle. This affects everything, from the amount of power you are able to generate with each shot, to your control over the ball.
Paddles range in weight from 6-11 ounces.  Most modern paddles are between 7 and 9 ounces.  Light weight paddles are those classified under 7.2 ounces.  Middle Weight paddles are between 7.2 and 8.2 ounces.  Heavy weight paddles are above 8.2 ounces.  These ranges are just guides for you and many paddles straddle the previously defined categories.  This is because the same paddle can vary up to 1/2 an ounce.  This is a result of the manufacturing process where everything from the resin to the grip cover can vary in weight.
While the difference between 7 and 9 ounces doesn't seem that great, the weight of the paddle really does impact your game significantly.  If you're looking to improve your power, and intensify your shots, a heavyweight paddle would be ideal. But if you're working on your slices and fine tuning your shot locations, then a lightweight may work better. If you've got a paddle to test out, here's how you can check whether it's too light or heavy.
Heavy Paddle
It's not hard to tell when a paddle is too heavy for you.  The first indicator would be excessive wrist and shoulder fatigue. If you find yourself with sore wrists and arms after a game, your paddle may be too heavy of a load on your body.
Another sign would be if you're sending your overhead smashes beyond the baseline regularly. This shot works great with heavy paddles.  But if the the weight is too much for you, your wrist can't turn quickly enough. So instead of sending the shot downward on the other side of the court, you tend to send it towards the baseline.
Light Paddle
A really simple way to tell if the paddle is too light is when the shots you play don't seem to be very powerful, even when you're swinging with all your force. Of course, your strength plays a role in the intensity of the shot, but there's only so much power that a light weight paddle can generate.
Ideally, you want to find a weight range that you're comfortable with. To do this, you can try out different paddles at public courts or from friends and test how they change your game. Now, using the weights of these paddles as markers, you can search online and find other paddles within the same weight range. This will help you narrow down your search and find paddles that best suit your strengths.
Grip Size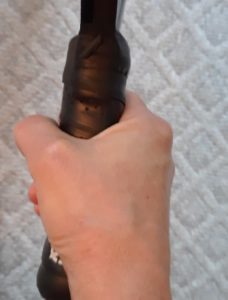 Once you've decided on the ideal weight, you can turn your attention to the grip size when choosing a Pickleball paddle.  This will determine, to a large extent, the quality of your game.
Most paddle handles are between 4" and 5" in length. If you are coming from a tennis background, look for a longer grip especially if you are hitting a two-handed backhand.
The most important thing to consider with grip size is the circumference of the grip. The thicker, or larger the grip, the more stability you will experience while playing with the paddle. A smaller grip allows you to use more wrist action.  While using your wrist isn't a common practice in Pickleball, it can be effective for some players.  My background is in playing racquetball, so using my wrist is natural for me.  As long as I can control my shots, I don't worry about my wrist action so I use a smaller grip.
The standard circumference is around 4.25".  However the grip can range between 4″ and 4.5″.  If you aren't too sure, you can get a smaller grip size and then add grip tape to it to make the grip thicker.  To know you have the right grip, hold your paddle.  Check the distance between your thumb and forefinger.  Ideally, the index finger from your other hand should fit comfortably in this gap.  For even more information on Pickleball grips, click here.
Material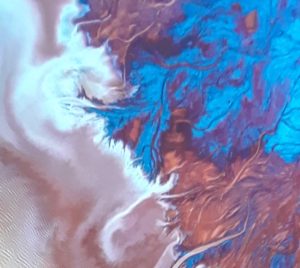 The material you play with depends largely on your style of play and your level of play.  So, it is another key factor in choosing a Pickleball paddle.
The first pickleball paddles that came out were made from plywood, and even today you can get yourself a wooden pickleball paddle. School programs buy wooden pickleball paddles in bulk to teach students the game. Wooden paddles are a lot cheaper and perfect for beginners.
Today's pickleball paddles are a little more complicated than the plain wooden ones. To get a better understanding of them, let's look at the two main components of a paddle – the core and the facing.
Core
The core refers to the base material of the paddle and there are three kinds.
Nomex – A harder, durable core material that tends to make a fair bit of noise
Polymer – Polymer is a much softer material with larger gaps in between. It's more powerful than the other cores, but you'll have to sacrifice some control
Aluminium – Similar to Nomex, but less powerful than polymer. Aluminium cores offer the best control but are a lot noisier and tend to bend out of shape
Facing
The facing refers to the material that's applied on the core and visible on the surface of the paddle. There are three main types of facing, and they can be applied to any of the cores mentioned earlier.
Fiberglass/Composite – The most common facing you'll find on most paddles and offers the greatest power
Graphite – Graphite is a tough material and provides superb ball control. However, you will have to sacrifice a little power when using a graphite facing
Carbon Fiber – More durable than graphite and provides the best ball control. However, carbon fiber faces offer far less power
Choosing a Pickleball Paddle Based on Price
Price can also play a role in choosing a Pickeball paddle.  They vary in price from under $50 to $150.  If you are a beginner, you can easily find a paddle under $100.  If you are looking to improve or are an advanced player, you don't have to spend over $100 either.  However, the paddles with the greatest technical advances are over $100.  Examples of these are Engage Pickleball's newest paddles which are part of the 6.o series.  Selkirk's Amped line is in a similar price range and is part of their latest technical innovations.
Still those high-priced paddles may not be the best for your game.  Usually, the one that feels the best regardless of price will allow for you best performance on the court.
Selecting a Pickleball Paddle With USAPA Approval
Not all Pickleball paddles can be used in tournament sanctioned by the U.S.A. Pickleball Assocation.  Paddles need to meet certain standards based on size, weight, and surface to be legal to use in sanctioned tournaments.  You can read an in-depth post on the requirements here.
Summary
This may seem like a lot of information, but it's necessary in choosing a Pickleball paddle. Are you an aggressive player who loves making power shots? Maybe a mid-weight paddle, with a larger grip, a polymer core, and fiberglass facing would be ideal.
Or if you're looking for a more balanced playing style, you may want a mid-weight paddle with a smaller grip and polymer core covered with graphite.
Finding the right paddle can be a challenge so give the paddle selector at the top of the post a try for some recommendations.  You'll find the best Pickleball paddles based on your budget, paddle weight, and paddle grip size.