Do you ever have a sore or stiff back after playing Pickleball? I know I do after playing for a couple of hours. My favorite remedy to cure the pain isn't to use ice or heat or drugs. Instead it is to use an electronic muscle stimulation (EMS) machine or transcutaneous electrical nerve stimulation (TENS) unit. The names of these devices make them sound like machines only a physical therapist can purchase, but a few years ago smaller units became available for consumers. I've had my EMS machine for over nine years and absolutely love it as a muscle stimulator machine! So, I thought I'd share my experiences in a review of the best EMS and TENS units.  As a side note, most EMS machines now come as a TENS and EMS combo unit.
Here is a quick summary if you are in a hurry:
Why Use an EMS or TENS Unit?
Are you not sure what an EMS or TENS unit is? If you've been to a physical therapist, you have probably been hooked up to one although it is bigger than ones you can easily purchase as a consumer. EMS units are meant to treat swelling and inflammation of muscles and joints. If I use my EMS machine on my lower back after playing Pickleball, I have no pain the next day.  It's a great muscle stimulator machine!
A TENS unit differs from an EMS since it helps block pain rather than reducing swelling and inflammation. TENS units are used to relieve acute and chronic pain since they are a drug free way to keep pain signals from reaching your brain. While I don't have persistent pain now, years ago my physical therapist gave me a TENS unit to wear when I tore all of the ligaments in my ankle. TENS machines can also be used to help with arthritis, bursitis, migraines, and other painful maladies.
You may be wondering whether you should choose an EMS or TENS machine. My advice would be to consult your physician or physical therapist. If you have used either one before, then you may already know what works best for you.  On the other hand,  you can also get a TENS and EMS combo unit so you don't need to choose.  This way you have an excellent muscle stimulator machine.
Usage and Cost of EMS Machines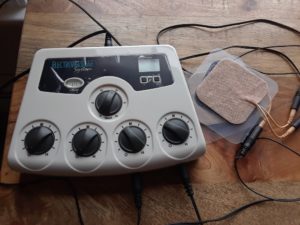 EMS and TENS machines are easy to use especially the best EMS and TENS units. Your unit should come with instructions on where to place the sticky electrodes depending on the area of the body experiencing pain or stiffness. My unit, which has 8 electrodes but I only use 2 or 4 at a time. If your machine does not come with instructions on where to place the electrodes, check with your physician or physical therapist.
I spent almost $200 on my EMS unit nine years ago with its 4 channels. This means you can hook it up to 4 different parts of your body at the same time because there are 4 control settings. Today, TENS machines can be purchased for under $100 and they typically have one or two channels. A quality EMS machine still costs hundreds of dollars, but it is well worth the price.
The problem with writing this post is my EMS machine is no longer sold although it is a great muscle stimulator machine. As you know, technology changes very rapidly and these devices have also. In reading the Amazon reviews for the best EMS and TENS units, it appears the quality may not be as high as my unit as it is still going strong almost 10 years after the purchase. Still, I think EMS and TENS units are such great products for pain relief, it is worth buying one even if they only last a year or two.
Best TENS Unit in 2019
In my TENS review, however, I decided to focus on quality machines since so many I read about had cracked screens or stopped functioning after a few weeks. This resulted in only one TENS unit I am going to write about. It is the Beurer Digital Electrostimulation TENS Device. It has 4 electrodes which can be used anywhere on the body. The intensity level has 50 different settings so you can really dial in what is comfortable for you.
Many reviewers said the quality of the unit was very high and I'm not surprised since this machine is designed by a large German medical device manufacturer. The TENS machine comes with a limited lifetime warranty. I didn't see any reviewers complaining about having to spend $20 to ship back and evaluate the item if there were issues. This is a tactic being used my some TENS and EMS sellers so buyer beware. Either Beurer does not have this practice or the quality is very high.
Beurer does not provide an instruction booklet on where to place the electrodes.  However, multiple reviewers said the TENS unit displays a body figure indicating the electrode placement for certain programs.
The Beurer TENS unit is very small measuring 4.8 x 0.9 x 2.3 and weighing less than 13 ounces. It uses three AAA batteries so these will need to be replaced from time to time depending on usage.
Best EMS Machine in 2019

All of the EMS Machines in the reviews below include TENS functionality so they are a TENS and EMS combo unit. They tend to differ in the number of channels and programs they have.
My top pick is the iSTIM EV-805 with its 4 channels and 24 programs, 12 TENS and 12 EMS. It also has 24 reusable electrodes so you shouldn't need to purchase any of these for awhile. The machine has a rechargeable lithium battery and can also be programmed manually.
This is a quality unit as I couldn' find any poor reviews due to it the unit not functioning or screen breaking. A few people did say the instructions were difficult to follow as they appeared to be written for a professional like a physical therapist. However, the iSTIM EV-805 does include an electrode placement guide to help you target the right areas. A number of users also said the pads were very sticky. I actually like this as they tend to last a long time but sometimes rubbing alcohol may be needed to remove the sticky residue.
Runner Ups
My second pick is the Hi-Dow AcuXPD-S. It is a pricey but quality unit with 18 programs. The machine is designed by a U.S. Based company and has been around since 2002.
The AcuXPD-S weighs about 1 pound and has two channels so you can treat two areas at one time. The machine comes with 4 pads, 2 large and 2 extra large. You can charge the unit via a usb cord and it runs off of AC or DC power.

The Digital Muscle Stimulator by J Sport is my third choice for combination EMS and TENS units. It has a much lower price point than my other two picks but is more limited in terms of programs. While the iSTIM and Hi-Dow have at least 18 programs, the J Sport unit only has 12 including 9 EMS and 3 TENS. Like the Hi-Dow it has 2 channels and 4 electrodes but the pads are all the same size.
I recommend this unit if you want to try out EMS and TENS to see if it is for you. I didn't read about any quality issues and the reviewers seem happy with the results.
The Future
If you want to venture into the future of EMS and TENS units, check out the Power Dot. This unit uses a smart phone app along with a rechargeable pod to give you the same functionality as stand alone machines. The positive side of this device is the size allows you to easily take it with you where ever you go. The downside is that it can be difficult to set up. Many users had a hard time getting the connectivity to work between the phone and the pod.
This is a product I wouldn't purchase right away unless you have a high tolerance for fiddling with things to get them to work. On the other hand, I will keep an eye on the device and update this review once their technology improves.  I expect one day a device like this will become one of the best EMS and TENS units.
Summary
It would be great if we could avoid all injuries but unfortunately that is not the case.  As the baby boom generation ages and more people take up sports like Pickleball, stiffness in muscles and joints from playing is the norm.  The best way I personally have dealt with a stiff back or sore shoulder is to use my EMS unit.  It's amazing how great I feel the next day after 30 minutes of muscle stimulation.
I recommend trying out a TENS unit or TENS and EMS combo unit.  My device does not have TENS but if I felt I need it, I would definitely upgrade to one of the units below.  I think my pick for the best EMS and TENS units would be the iSTIM EV-805 as it has a nice mix of features for the price and appears to be of good quality.