A few weeks ago, I paved an area in my backyard for my RV.  This space along with part of my driveway doubles as my practice court for pickleball.  The court is regulation length at 44 feet but only 12 feet wide rather than 20 feet wide.  It's great for practice or a game of skinny singles.  One of the challenges in an outdoor court in your yard is finding a solution for court lines.  While gym floors can easily be taped if there are no painted pickleball court lines, pavement presents a different challenge. 
I started with lining the driveway with some chalk I found in the house which was previously used by my four-year-old niece.  While I knew chalk would not last long, I had this as a temporary solution so I could see exactly where I wanted the court.  The chalk washed away with the first good rain so I then checked Amazon to see about my options. 
Plastic Court Markers
The first thing I considered were plastic court markers.  While I did not purchase them due to the expense, there are some good options if you don't mind lines with gaps.  This is because most sets don't have enough pieces for a pickleball court.  So, you would need to buy multiple sets.  For example, most kits only contain 8-12 straight pieces which are about 14″ long.  You would need quite a few sets to fully line a pickleball court. 
Court Tape and Pavement Tape
Another option for lining courts is court tape.  However, most options are for gym floors rather than the pavement. Note the prices of the gym tape are quite reasonable but probably not a good solution for pavement.
In doing some more research, I considered pavement marking tape.  This is more of an industrial product than sports product and it is very expensive.  So, I backed away from this option when I saw the tape becomes permanent after a year.  I didn't think this is a good option in my driveway as it could deter buyers when I sell my house. 
I later found an option for pavement tape which is temporary.  In the reviews, people said it could still be pulled up even after cars drive over it.  However, a least one reviewer so it did not work on concrete so I decided to look a bit further and see what I could use from my garage.  Low and behold I found some duct tape. 
Duct Tape to the Rescue?
Doesn't duct tape fix everything?  Well, not exactly.  The duct tape court lines have been down on my driveway for two weeks now.  It worked great at first but the lines started to come up after a rain and some hot weather.  Note this occurred on only one side of the court.  It was the side where water pooled after a storm and the area also gets less shade.  The other half of the court has no issues. 
But, I did remove the tape on the part of the court where it did not stick.  As I pulled up the tape, I had a pleasant surprise.  The glue from the tape remained on the driveway.  It wasn't sticky any more but there was a nice white residue.  While you may not think this is a plus, I now have excellent lines on the court due to the glue rather than the tape.  I'm not sure how long this will last but it has survived quite a bit of rain so I'm optimistic.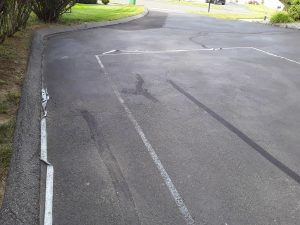 I have to admit duct tape isn't going to work in most situations but the type I purchased was contractor grade.  Assuming court markers might be a better solution for most cases, here's a more in depth look about what I learned.
Get Out! is slowly rising to be one of the major players in the Pickleball industry, with A-grade equipment to offer to enthusiasts.
This particular boundary set from Get Out! comes in red and yellow markers and a 1-year warranty in case the product is damaged or unreliable.
The best part about this set of markers is that they're a lot heavier than most other pickleball court lines, ensuring that they stay in one spot during the game. This helps because you don't want to be readjusting the boundary every time the ball hits the marker.
Additionally, this set also comes with a non-slippery surface, allowing for the markers to stay in place even when players come in contact with them.
This Eco Walker Court line marker kit comes with twelve 4" pieces, four 21" corners, two 8" spot markers, and a string backpack to store the markers between games.
The multiple markers in bright colors help to improve visual acuity, training players to hit the ball with greater accuracy. The spot markers also help new players figure out where to serve or return serves and where to stand during the opponent's serve.
However, this set is a lot smaller than most other sets and works better when introducing beginners to the sport. The lines and markings can really help new players drill the basics and master them quickly.
But even if you're a more advanced player, you can use these court lines to set up a drill site to work on different techniques and footwork. It may not be ideal for playing but it can really help improve your drill work and conditioning.
The name may have you wondering why tennis court lines are being included in this list of pickleball court lines. Well that's because the Wilson EZ Tennis court lines were made for tennis but have become quite popular with pickleball players.
Unlike most court lines, this one comes with straight lines and L-shaped lines, giving your court a slightly different look than most pickleball courts.
These lines are quite rubbery and durable and can withstand getting trampled repeatedly during a game. The EZ Court tennis lines are also quite flexible, so you want to make sure you lay them out straight in the box after you're done playing. A few players have complained about how they tend to curl up in the box, and laying them out straight can prevent this.
Gamma is one of the top players in the pickleball industry, providing various pickleball equipment including paddles, balls, nets, sling bags, and now, court lines.
The gamma court lines are built to be solid and durable with each marker weighed down to ensure it stays in place during a game.
These court lines for gamma are ideal for both indoor and outdoor courts and can be used in both cases. Some customers have found that flipping them over on the smooth side works much better on indoor courts, minimizing any slips.
These court lines are weighed down adequately enough to ensure that they are not displaced by wind during a game, which is often a major concern for outdoor pickleball players. The rubber used in the construction of these markers is quite solid and durable, so you can rest assured that you'll be using them a long time.
The durability of the strips also allows you to step on them during a game without worrying about the damage they might take.
While Gamma does offer a 12-pack version of the same court lines, it's best to get the 24-pack so you can set clear boundaries during your games and not have to second guess whether the ball was out or in.
Summary
Having a pickleball court in your driveway is a great way to practice and play some skinny singles.  I often use my pickleball machine when I don't have an opponent for singles.
I'm waiting to see how long my duct tape slash glue residue lines last.  If they don't last through summer I may try out the court markers or the temporary pavement tape.  I really like the idea of my $6 solution rather than spending over $100 on pavement marking tape or court markers.  I'll post again when I take next steps.