In this episode, Lynn welcomes Adam Richards, from High Five Pickleball, to share his analysis and experiences of professional-level pickleball. They dive deep into the strategies, techniques, and trends of the game.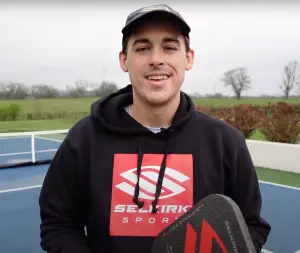 Mentioned in the Show
Connect with Adam Richards:
Show Notes
Strategies and Techniques: Adam explains two main strategies, the Poach and the Shake and Bake, discussing how they are implemented in professional games, and provides examples from the Red Rock Open.
Shake and Bake: The pair delve into what makes the Shake and Bake different from traditional techniques and how it is strategically employed in games.
Game Aggression: They highlight the increasingly aggressive nature of professional pickleball and discuss how the game's dynamics have evolved over the past few years.
Game at the Net: Lynn and Adam talk about how professional players have moved towards more aggressive play at the net. They emphasize how essential speedups are, and how effectively controlling them can significantly influence the game.
Influences on Performance: Adam discusses the groundbreaking analytical work being done to determine what strategies are most effective in professional play, arguing that these insights can help improve individual games.
Learning from Pro Players: They agree that even players at lower levels, such as 4.0, can learn from observing professional players, focusing particularly on the benefits of speeding up the ball.
Path to Better Pickleball: Adam introduces his free guide and video series, designed to help players improve their game. He explains that the series provides a structured pathway to improve, covering ten essential skills, complete with drills and practical strategies.
Benefits of Pickleball: Adam emphasizes the personal benefits he's gained from playing pickleball, noting how it provided him with exercise and social interaction during the Covid pandemic. He encourages everyone to invest in themselves by investing time on the court.